We have NEW HOURS beginning 6/1/2017. We hope these will better accommodate your needs. Our online scheduler is back up! You can Click here to schedule at your convenience 24/7 or please call or stop by to schedule your appointment. Please notify us if you run into any problems. We always welcome feedback to help us improve our services to you.

THANK YOU to Dr. Thorson for volunteering again at the 2017 Crested Butte Wellness Fair and providing courtesy reviews of labs. Also, THANK YOU to all volunteers for stepping up to make the fair a big success!

Featured Artist: Shayn Estes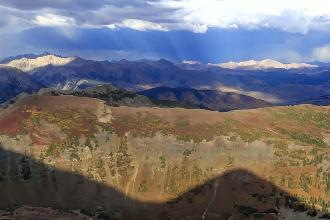 8/1/2013: Our walls have enjoyed the new artwork provided by local resident and photographer Shayn Estes. His landscape photography is truly incredible!!

BIO:


Shayn Estes has been perusing landscape photography in any way that he could and as much as he could since he was 13. It's his dream to be a great landscape photographer. Growing up Shayn idolized the great Galen Rowell, who was a first class photographer and mountaineer who made a name for himself in the Sierra Mountains of California and accomplishing amazing feats in the Himalayas, such as the first ascent of the Great Trango Towers in the Karakoram Range. In addition to Rowell Shayn also has the highest admiration for David Breashears, who was a pioneer of Alaska mountaineering, and while doing incredible feats in the Alaskan range he did so with his camera and ended with the result of capturing some of the best landscape mountaineering photos ever taken, which is still true today. With that said, Shayn's drive as a photographer was to photograph the dynamic landscape from treeline and above. It's from these places that Shayn feels the strongest and most powerful beauty of the mountains is observed, and this is why he has chosen to specialize from these incredible and remote areas. Growing up Shayn has worked with two of Colorado's great photographers, Todd Pierce and John Fielder, for more than two years. Shayn has helped John and Todd carry their camera gear around the mountains while having personal instruction from the masters themselves. Shayn spent much of his time with Todd Pierce who was a student of Galen Rowell. Shayn and Todd would talk and practice the techniques of what it takes to make an outstanding photograph. From what he has learned from his great mentors to his natural talent and drive, these elements are strongly reflected in Shayn's work. His photography is truly genuine and one of a kind. It's not uncommon for Shayn to spend 3 to 4 days a week for months to get the picture that he has envisioned. The mountains will always be home for him, but he would like to travel the world and photograph a wider variety of subjects such as deserts, jungles, plains, the ocean, and of course the other great mountain ranges that occupy the rest of the world. His dream is to not only do this but to do it with his love Saskia. Visit Shayn's website at: http://mountainmajesty.org/index.html





7/17/2013: Dr. Thorson was pleased to sponsor the public policy forum talked provided by Jack Cochran, MD from the Kaiser foundation. This well attended event hopefully inspired conversation about the state of medical care and changes going forward.

9/1/2012: Town Clinic of CB is looking to hire individuals for our medical assistant position. Certifications desired include MA, EMT, or LPN. Must have experience and certification for IV placement. Please call 970.349.6749 to inquire.

6/5/2012: Dr. Thorson is holding a public meeting to discuss health care in Crested oButte. He invites you, your family and friends, and your neighbors to participate in this important discussion. Please join us on June 5th, Tuesday from 4:00-6:00pm at the Crested Butte Town Hall. Light refreshments will be served and daycare will be available on site. If you cannot make the meeting, we still want to hear from you! Please send us your feedback about your vision for ideal health care in the Crested Butte community. Contact us for more information!

2/11/2012: Town Clinic staff assisted with the Crested Butte Health fair. Marsha assisted at the blood pressure station while Amelia assisted in drawing bloods and additional activities as needed. Dr. Thorson provided an "ask a professional" station to briefly cover health fair results with any community member that desired a review of their blood results.

2/8/2012: Town Clinic staff including Dr. Thorson participated in a local influenza vaccination clinic held at the local school and coordinated by Gunnison County Public Health

1/1/2012: As we reflect on the last year our staff and providers wish to thank both locals and visitors for supporting our clinic. Here is to a healthy 2012!!

9/05/2011: We will be returning to our regular schedule. This is Thursday through Monday 1pm to 9pm and closed on Tuesday and Wednesday. We will continue to have our allergy clinic availability on Thursday mornings

6/01/2011: Our Clinic is excited that our waiting room has received a bit of a face lift. We feel it is important to not only provide care for the community but also to support the local community. We have encouraged local artists to display their work on our walls for both patients and visitors alike. We are currently enjoying the work of Xavier Fane (please see more info below). If you are an artist in the community and would like to have your work displayed we would love to hear from you.

XAVIER FANE: CURRENTLY FEATURED ARTIST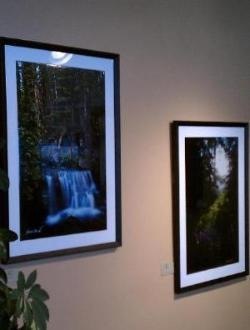 About Xavier: Local photographer Xavier Fane wasn't a photographer when he made it to Crested Butte in the mid-eighties from his homeland in the Pyrenees Mountains of Spain. It wasn't until 1990 that through his dedication to and love of mountain sports he landed his first job as a photojournalist and writer for Solo Bici, a mountain bike publication based in Spain. That opened the door to many travels around the globe in search of adventure, as well as more opportunities to write and shoot for other outdoor sport-oriented publications. As time went by, his passion for photography grew to become a full-time profession. He is currently on the staff of two Spanish outdoor magazines, as well as a regular contributor to other publications such as VeloNews, The Mountain Flyer, Mtn Bike Action, the Crested Butte Magazine, Outside Magazine and Men's Journal.

"After a lifetime of running, biking and skiing swiftly in the mountains I have found in photography an endeavour in which to develop my more contemplative side. It has helped me immensely in fortifying my bond with nature and the universe. It's also a natural extension of my mountaineering background. I like to go deep in the mountains; sleep on summit tops; get stinky, lonely, and sometimes scared and from this angle look at the world through my lenses."

Contact information: www.xavierfane.com, phone 970.275.6226

Home Our Team Hours/Services Appointments Health Insurance

Patient Resources Billing Contact Us Clinic News